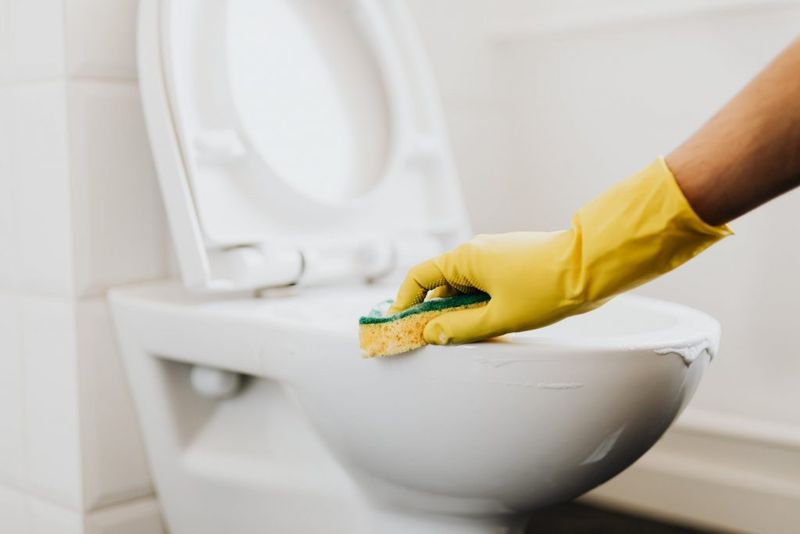 Cleaning the toilet is something we all like to postpone. But did you know that the toilet is probably the dirtiest place in your house? For example, there are thousands of bacteria in your toilet. That is why it is important to clean your toilet more often. Of course, we prefer to do this as easily and quickly as possible. These five tips make cleaning your toilet a lot easier!
1. Do not use chlorine
Do you ever use chlorine to clean the toilet? Don't do this anymore! This does not clean your toilet at all, and it does not help against limescale. You are much better off using vinegar and a bit of green soap to clean your toilet. Simply mix a cup of vinegar with water and add a splash of green soap. This mixture slowly releases acidic vinegar which dissolves the lime scale and bacteria. This is a super-easy solution which makes it possible to clean your toilet in no time!
Continue reading on the next page.
2. Leave all-purpose cleaners
It is better not to use all-purpose cleaners to clean your toilet. A bit of cleaning vinegar with some soda works much better! You can just mix a cup of vinegar and soda with water. You will see that your toilet and the tiles will shine like never before when you clean with this self-made mixture. Easy right?
3. Clean toilet brush
You clean the toilet with a toilet brush, but how do you clean your toilet brush? You will probably put it back in the holder immediately after use. In this case, all bacteria remain on the toilet brush. The next time you use it, you actually only make your toilet dirtier. It is best to leave the toilet brush in the bowl with a little bit of cleaning vinegar. Do this at night so the vinegar can do its job. The next morning you simply flush the toilet and you have a perfectly clean toilet brush!
4. Remove items from the room
Items such as soaps, scented candles and air fresheners not only make cleaning a lot more difficult, but also attract a lot of dust. And that's just more cleaning work! Do you have a rug in the toilet? You're better off removing this one too. This also attracts a lot of dust and often contains a lot of bacteria too.
5. Always close the bowl
Prevention is always better. That's why we advice you to always put the lid of the toilet down when you flush. This prevents a whirlwind of bacteria from spreading across the toilet or bathroom. The water splashes further than you think!