[adrotate group="2″]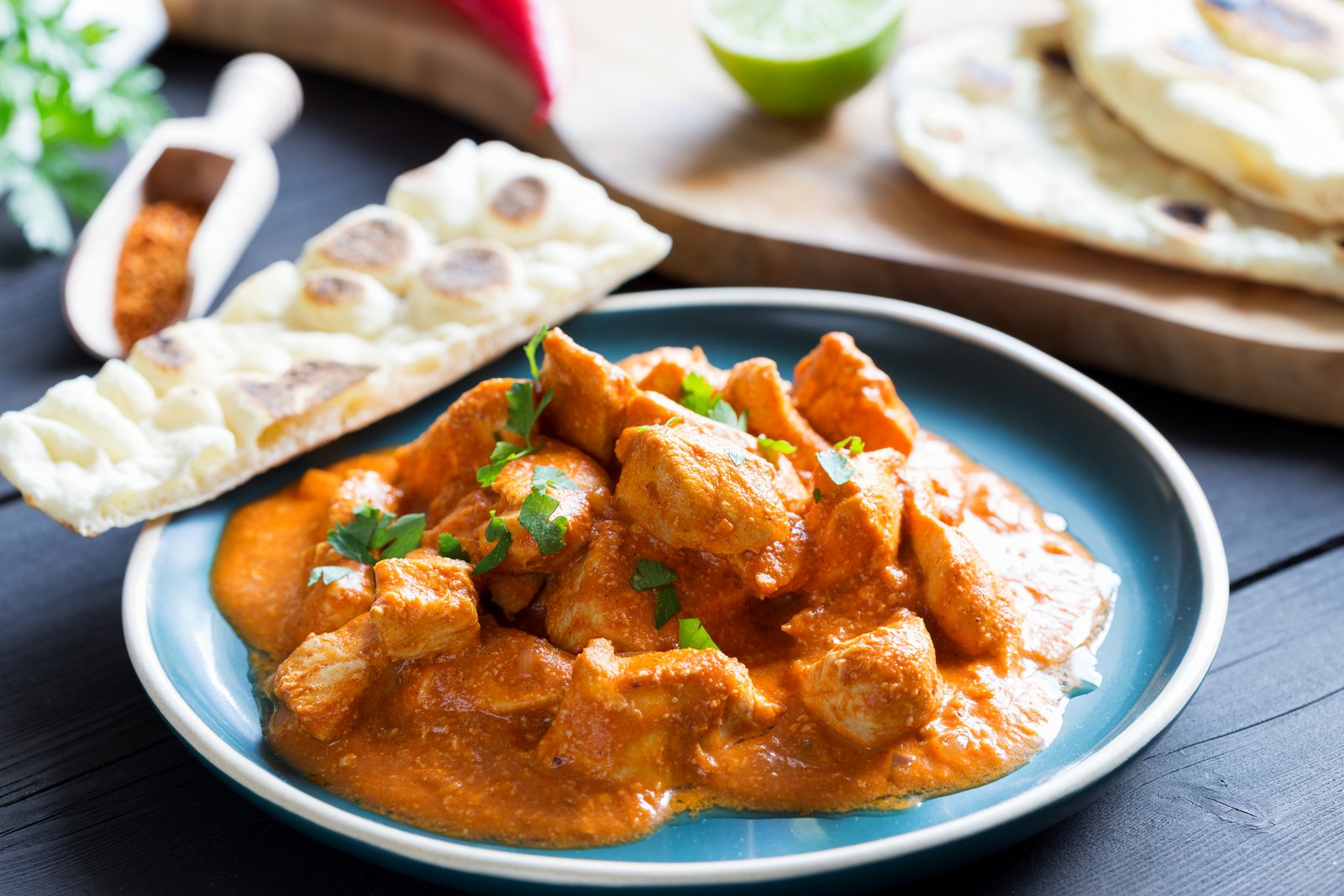 Butter Chicken, also known as murg makhani, is an Indian curry dish made of chicken that's coated in a well seasoned tomato gravy that includes butter and cream.
Chicken is marinated in yogurt, spices, garlic and ginger, then later cooked in a tandoor, but it can also be pan fried, grilled or oven roasted. After that it is tossed with the simmered, richly seasoned tomato sauce.
This butter chicken recipe is easy and straightforward. It just involves a bit of extra time. It's one of those hard to mess up dishes as long as you follow a few simple directions and tips.
If you love Indian food this is a must try recipe, and if you've never had Indian food this is such a great place to start!
Butter Chicken Recipe Ingredients
I know this will look like quite the list but you can see from the ingredients image below it's really not too bad so don't be intimidated.
Chicken thighs: I recommend trimming excess visible fat so sauce isn't overly fatty in the end.
Whole plain yogurt: I use regular yogurt though Greek yogurt would be fine as well.
Lemon juice: Use freshly squeezed juice for better flavor. In a pinch lime juice will work great too.
Garam masala: I highly, highly recommend homemade Garam Masala (recipe HERE). Whether it's the version using whole spices or pre-ground spices it's a game changer for this dish.
Fenugreek leaves: This is an ingredient most grocery stores don't carry in the U.S. but it's a staple for this dish. If you've never cooked with it you'll quickly realize this is what your Indian recipes may have been missing all along. You can purchase it online HERE.
Turmeric: A classic spice in Indian cooking. It adds that yellow color and unique flavor.
Smoked paprika: It's all about building flavor in this dish and the hint of smokiness here does just that.
Garlic: Only use fresh garlic here.
Ginger: Only use fresh ginger as well.
Salt and pepper: Season to desired preference. If you'd like you can mix up the marinade, taste it for seasoning, then after add the chicken.
Butter: An absolute staple ingredient. It brings that classic buttery goodness here.
Yellow onion: Onion is essential to really build up the overall flavor of the sauce.
Cayenne pepper: A spice that brings that spicy element.
Canned fire roasted tomatoes: That hint of char from fire roasting gives the sauce that extra something.
Heavy cream: We are going for a rich sauce so the recipe includes both butter and cream!
Chicken broth: This isn't always typical in butter chicken but I think the sauce is a little too thick without it here so only a little is needed for thinning.
Cilantro: The perfect finishing touch for both freshness and color contrast.
[adrotate group="2″]
How to Make Butter Chicken
CHICKEN MARINADE
Toss chicken with marinade mixture: In a large mixing bowl toss together chicken pieces, yogurt, lemon juice, 1 Tbsp garam masala, 3 tsp fenugreek leaves, the turmeric, 1/2 tsp smoked paprika, 1 Tbsp garlic, 1 Tbsp ginger and salt to taste (I use 1 tsp).
Rest in fridge: Cover bowl and transfer to refrigerator and let marinate. How long to marinate: at least 2 hours and up to 24 hours.
Spread chicken on 1/4 baking sheet: After marinating transfer chicken to a greased 13 by 9-inch rimmed baking sheet and spread into an even layer.
Broil chicken to cook through: Move oven rack 3 inches below broiler in oven. Preheat broiler to high heat, once heated place chicken in oven and broil until cooked through and browned, about 10 – 15 minutes*.
BUTTER CHICKEN SAUCE
Melt butter in skillet: Meanwhile melt 4 Tbsp butter in a skillet over medium-high heat.
Saute vegetables: Add onion and saute until lightly golden brown about 7 minutes. Add remaining 1 Tbsp garlic and 1 Tbsp ginger and saute 1 minute longer.
Bloom spices: Stir in remaining 1 Tbsp garam masala and 1 1/2 tsp smoked paprika and 1 tsp fenugreek. Saute 30 seconds.
Add tomatoes and simmer: Pour in tomatoes. Cover and simmer over low heat 10 minutes.
Puree sauce in blender: Transfer tomato mixture to a blender. Cover with lid and remove center insert from blender lid, cover with a folded kitchen towel or several paper towels. Blend sauce on low until smooth.
Return sauce to pan along with cream and broth: Return sauce to skillet over medium-low heat, scrapping any excess from blender jar into pan. Pour in heavy cream and chicken broth and stir. Season sauce with salt and pepper to taste and cayenne pepper to taste.
Mix chicken in with sauce: Add in cooked chicken pieces and rendered juices from baking sheet.
Heat a few minutes longer: Cover and warm through for a few minutes then serve warm over rice or with naan if desired.
How to Make it Lighter
If you want to make this lighter you can try:
Chicken breasts in place of chicken thighs (just be sure to cook right to 165 degrees, not above or below. If cooked too high they'll dry out).
Reduce butter to 2 Tbsp.
Use half and half in place of cream (you may or may not want the chicken broth with this option, so wait to add it after mixing in).
How to Make It Mild or Spicy
While originally the dish was created to be create a mild curry sauce but you can make it spicy if you'd like.
Here you can control the heat level by adjusting the amount of cayenne pepper added (and if using the homemade garam masala you can include red pepper flakes or leave them out).
If you want it mild just don't add any cayenne pepper. If you want it spicy, add to your hearts content.
Can It Be Made in an Instant Pot?
Yes butter chicken can also be cooked in a pressure cooker (it's just not quite as flavorful as the broiled option). Here is the method I would use:
Marinate the chicken as directed in mixture.
Saute the onion in butter on the saute setting in Instant Pot about 6 minutes. Then add the garlic and ginger and spices and saute 1 minute.
Turn instant pot off then toss in tomatoes, chicken broth and chicken mixture.
Cover and set valve to "sealing" position. Cook on high pressure for 6 minutes.
Quick release when time is up then remove chicken pieces. Puree sauce with immersion blender and let cool slightly.
Stir in cream. Then toss in chicken, finish with cilantro.
[adrotate group="2″]
Tips for the Best Butter Chicken Recipe
Don't skip any of the spices/herbs listed (unless there's an allergy). Together they really create fantastic flavor.
Use a homemade garam masala blend. Store-bought blends can be too peppery and lack some of the warm spices.
Plan ahead and allow plenty of time to marinate. 2 hours is the minimum and you can go up to 1 whole day to infuse more depth.
Broil chicken for a nice char. Some recipes call for baking or searing but broiling is fastest and adds best flavor.
Add more seasoning to taste. Wether it be salt, pepper, garam masala or cayenne pepper. Taste sauce during cooking and finish it how you prefer.