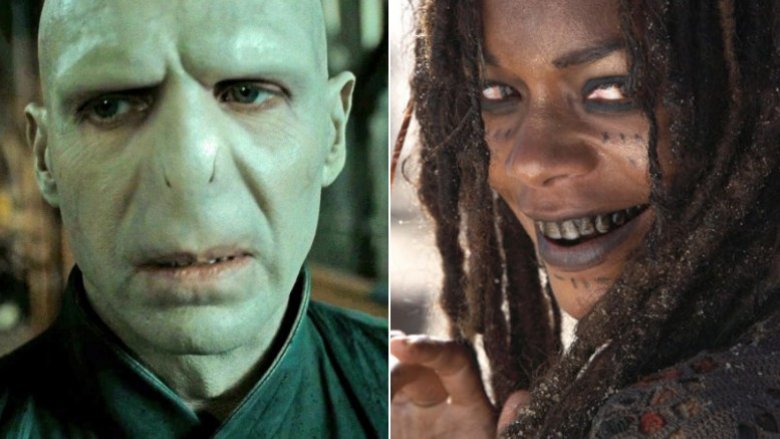 There's been a fair few good looking bad guys in Hollywood over the years, but traditionally, the antagonist is ugly as sin. It's been that way since the silent film era when the rat-like Nosferatu (the father of all movie vampires since) stalked the halls of his castle. "He has a bald head, pointy ears, elongated hands with clawlike nails and two conspicuous fangs where his front teeth should be," The New York Times said of F. W. Murnau's classic monster. "This guy is no cutie face." Of course, you expect some creepy characters when you watch a horror movie, but the ugly villain trope actually exists across every genre.
Disney helped to perpetuate this with its animated features and continues to do so today with its live-action output, as you're about to find out. Does this mean that the Mouse House needs to change its ways? Not according to an actual study by Georgia State University, which suggests that real criminals are usually unattractive people, a fact that pretty much lets the big studios off the hook. They can make their villains as aesthetically unpleasing or as downright frightening as they choose, and some of them have really pushed the boat out in recent years. But what about the actors beneath the makeup and prosthetics?
The following movie villains might be designed to disgust, but they're all gorgeous in real life.
Captain Phasma in The Force Awakens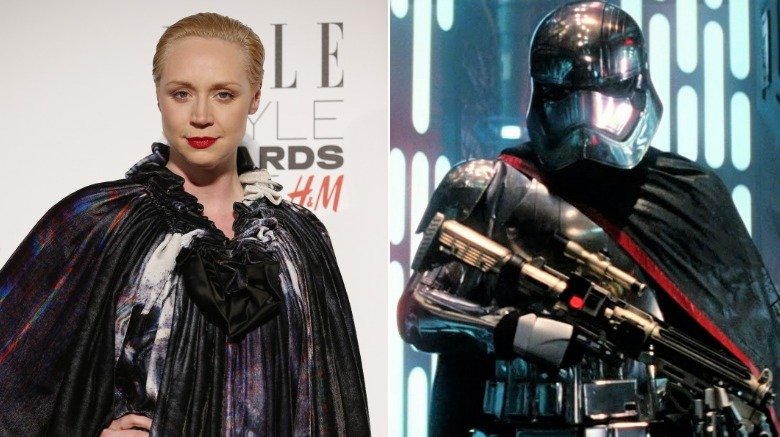 When she won the part of Captain Phasma in 2015's Star Wars: Episode VII – The Force Awakens, Gwendoline Christie made history as the first on-screen female Star Wars villain. Not that anybody would have known that had Phasma (who was conceived as a male character) kept her mouth shut — she never takes off her chrome helmet once during the movie. "I was actually lucky enough to be given a Couture suit, so the armor was made to fit my dimensions exactly," she told Moms 'N Charge. "I just loved that we maintained the practicality of what she was wearing… You put this armor on, and you feel rigid and uncompromising."
Phasma proved a hit with notoriously hard-to-please Star Wars fans, who reacted negatively when Rian Johnson failed to utilize her properly in his follow up, 2017's Star Wars: Episode VIII – The Last Jedi. Speaking to Business Insider, the director said that he was "bummed" about the character's limited screen time, too. "The truth of it is there wasn't room for her in this movie," he said. "She's so badass, I wish it was her story. But it isn't. Maybe there will be one eventually at some point."
The 6'3" actress and model rose to fame playing Brienne of Tarth on Game of Thrones, flying the flag for taller women. "Occasionally I get messages from women saying that I've brought them some joy, and that's unbelievably thrilling," Christie told Rolling Stone.
The Red Queen in Alice and Wonderland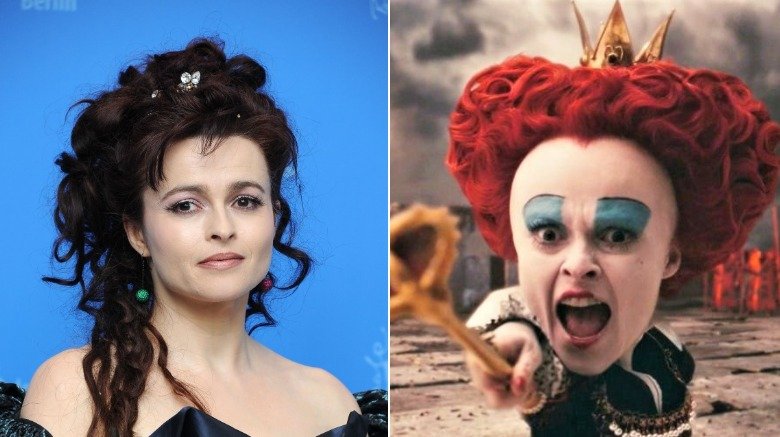 Known for the many movies she's made with her now ex-partner Tim Burton and his go-to collaborator Johnny Depp, Helena Bonham Carter is more than just crazy wigs and gothic makeup. She was nominated for a Best Actress Oscar for her star turn in 1997's The Wings of the Dove and was recognized in the Best Supporting Actress category for her work opposite Colin Firth in The King's Speech. The wildly popular King George VI biopic hit cinemas in 2010, the same year as Burton's hugely successful (it made over a billion dollars worldwide) take on Lewis Carroll's Alice in Wonderland.
The filmmaker cast his other half as The Red Queen, which fell right into Bonham Carter's comfort zone. "I loved playing her originally because of her look," she told Den of Geek during the promotion of 2016's Alice Through the Looking Glass. "I always like camouflaging myself, basically. She's just such a strong character. It's always liberating to play someone who has basically stopped growing up. She was just brilliantly written. It was a gift." The sequel was way less successful than its predecessor, but Bonham Carter was one of the few stand-outs.
The raven-haired beauty was also made to look hideous for the Harry Potter films, in which she played deranged Death Eater, Bellatrix Lestrange. By the last movie she'd gotten used to the rotten (and apparently "very expensive") false teeth she had to wear.
Aileen Wuornos in Monster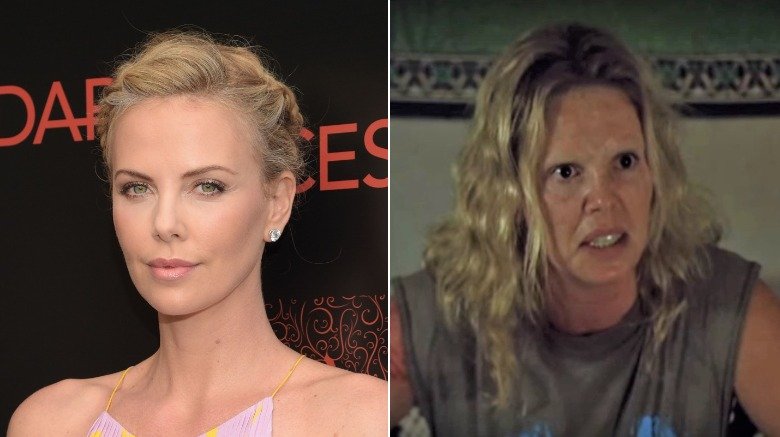 South African beauty Charlize Theron is known for playing characters that are both tough and sexy at the same time, but she only had to bring one of those traits to her breakthrough role. You could certainly describe real life serial killer Aileen Wuornos as tough, but she most definitely wasn't sexy in the traditional sense. According to History.com, Wuornos murdered seven men over a five month killing spree that began in late 1989. In 2002, she was executed in Florida, where she'd committed the murders.
Theron portrayed Wuornos in 2003's Monster (directed by future Wonder Woman helmer Patty Jenkins), giving a performance that the Academy deemed worthy of a Best Actress statuette. She thanked a lot of people in her acceptance speech, but perhaps chief among them was the film's talented makeup artist, Toni G. "She's got this beautiful face, but she's a very brave woman, because you've got to have the weight in order for the jowls to look right," Toni G said (via The Makeup Gallery).
Theron gained 30lbs in weight for the role, but allowing herself to become a little out of shape still didn't change the fact that her face was flawless. "We had all those things together but she still had this creamy, poreless, gorgeous skin," Toni G added. "With makeup, I had to create the years of abuse to her skin — all the freckles and capillaries and sun damage — either through hand-painting or working with an airbrush."
Brian Prince in The Predator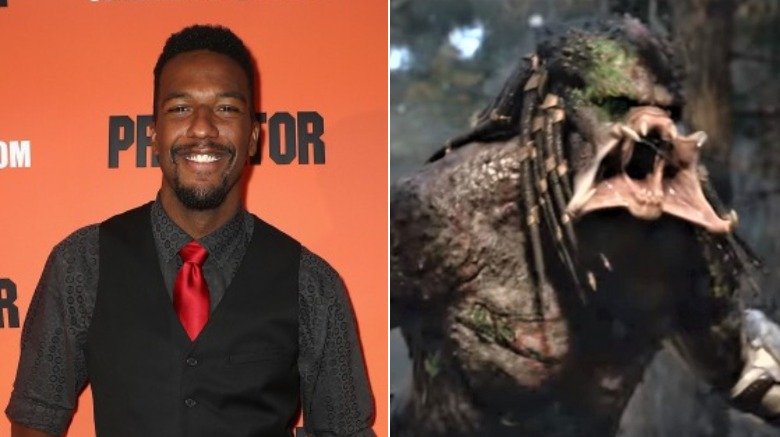 Described by Den of Geek as "an unfeasibly tall man," Brian Prince won the part of the titular alien in 2018's The Predator not only because he's huge, but because he's also a parkour expert. He'd previously done stunt work for The Walking Dead, and has since worked on Captain America: Civil War and Black Panther since then, but Shane Black's reboot of John McTiernan's '80s classic is without a doubt his biggest gig to date — and it came out of nowhere. 
Prince was studying art in Atlanta (he spent much of his time drawing comics, he admitted) when he decided to submit a video of himself doing parkour to The Predator's stunt coordinator. Before he knew it, he was on a plane bound for Los Angeles. "I just got in there and started swinging and jumping, started running around," Prince explained to Den of Geek. "I mixed in some hunting and primal elements with a lot of my parkour movements … I guess Shane liked it, because the next day they told me I got it. I was like, 'What?' I was working minimum wage last year, and now I'm here!"
Standing at a whopping 6'10", Prince was the perfect build to play a hideous predator, though in real life he's not only good-looking, he's apparently a great guy, too. "Olivia Munn said to me, 'There's no way you can play the Predator, you're too nice,'" the athletic actor recalled.
Rita Repulsa in Power Rangers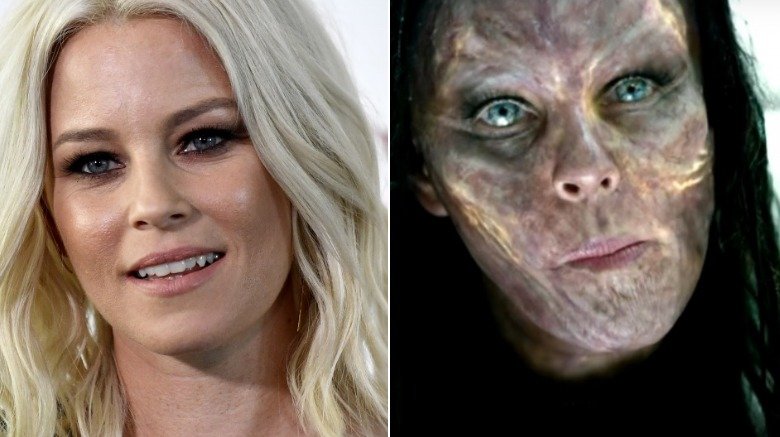 Undoubtedly one of the most iconic kids TV villains of all time, the Rita Repulsa from the 2017 reboot of Power Rangers was very different from the wacky, comical hat-wearing baddy we came to know in the '90s. The Repulsa from Mighty Morphin Power Rangers (which was cut together using footage from Japanese counterpart, Super Sentai) wore a baggy brown robe that covered her entire body, but the version of the character played by Elizabeth Banks was sexed up in true Hollywood fashion.
"So many people worked on my costume," the blonde actress told SyFy. "It was really intense. I wear, at one point, a full body prosthetic from head to toe. The only thing that isn't covered by full silicone is like 12 inches of my chest area and that's it." Vulture called her "a very District One Rita Repulsa," referencing Banks' elaborately dressed character from The Hunger Games movies. Her Power Rangers outfit might not have been quite as in-your-face as Effie Trinket's flamboyant garb, but getting into it was still an ordeal.
Speaking to Parade, Banks said that she may never sign up for a prosthetics-heavy role ever again. "I went to sleep in the makeup chair," she recalled. "I was there for four hours, so when I wake up and I look in the mirror, it is a totally different person sitting there. I never feel like the character until I am walking in their boots, and carrying their staff."
Lord Voldemort in Harry Potter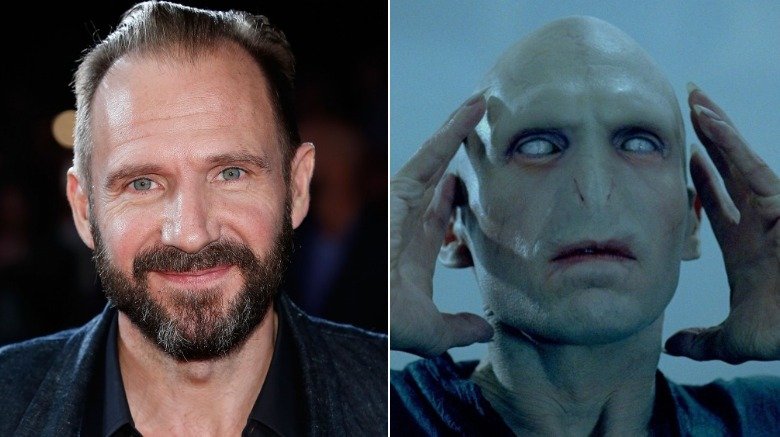 Ralph Fiennes almost turned down the role of Lord Voldemort in the Harry Potter films, only agreeing after his sister convinced him it was worth his while. The Brit's performance is perhaps one of the most underrated villainous turns in Hollywood history. Everything about his take on He Who Must Not Be Named was pitch perfect, from his callous killings of anyone pro-muggle to his iconic laugh. "The endlessly versatile Ralph Fiennes gives an astonishing, multi-nuanced performance as the Dark Lord, one that (with some justice) should earn him a Supporting Actor Oscar nomination," veteran film critic Emanuel Levy said after watching the final installment in the long-running franchise.
The Academy failed to recognize Fiennes for Harry Potter, but then again most people fail to recognize him as Voldemort, thanks to the stellar work of makeup artist Mark Coulier. "He made handsome British actor Ralph Fiennes look downright terrifying," Anna Klassen (former entertainment editor at Bustle) said when she interviewed Coulier in 2016.
"We only had about two hours to do Ralph's makeup, because of all the filming restrictions … so we had to design it around that," Coulier recalled. Voldemort's slit-like nose was created digitally, but Coulier did as much as he could do practically, making eyebrow blockers and temporary vein tattoos for Fiennes. "It worked really well," the makeup guru recalled. "We covered his whole head in veins in about 10 minutes."
Nero in Star Trek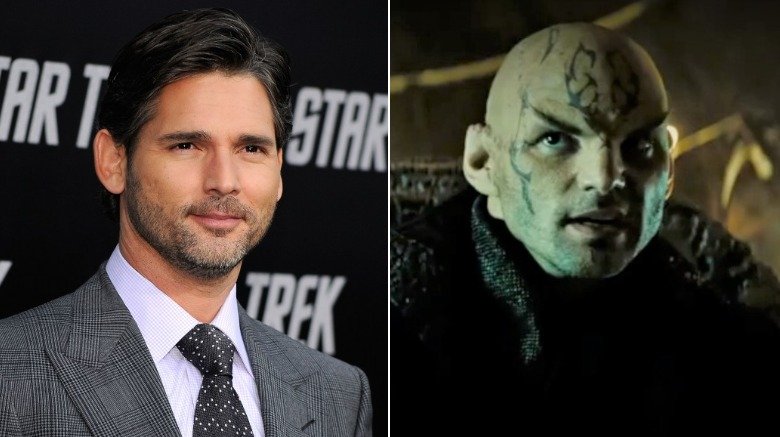 Australian actor Eric Bana is probably best known for starring as Bruce Banner in Ang Lee's botched attempt at bringing the Hulk to the big screen, but he's been working steadily in Hollywood ever since, often going unnoticed. Bana followed 2003's Hulk with appearances in the historical epic Troy and Steven Spielberg's Munich. He also portrayed infamous wife killer King Henry VIII in The Other Boleyn Girl. But Bana's become a lot less prominent since, and his retreat from the A-list seems to have begun with 2009's Star Trek.
There was nothing wrong with his performance (in fact, some fans believe his Nero is actually the greatest Trek villain of all time), but many people didn't even know that it was him underneath the Romulan makeup. Not that he minds. Speaking to HuffPost in 2013, the Aussie said that he gets a kick out of watching the penny drop when he's talking to fans. "I still get people today who just saw Star Trek and had no idea," he said. "Someone just told me yesterday, 'You're in Star Trek and when it came out I had no idea it was you'. That's a huge kick. No, I love that."
The actor also told The Telegraph that he was "freaking out" when he first saw himself all done up as Nero, but overall it was a worthwhile experience. "It was so much fun," Bana said. "By the end of the first week it's very normal."
Darth Maul in The Phantom Menace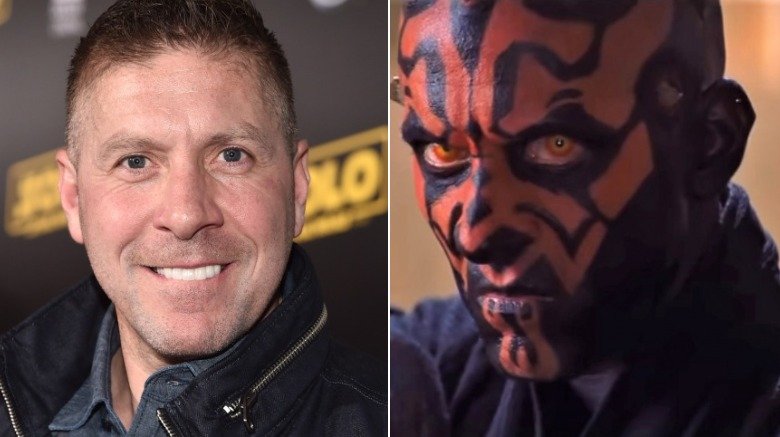 George Lucas' prequel trilogy has always been divisive, but did give us one of the most memorable Star Wars villains: Darth Maul. Introduced in1999's Star Wars: Episode I – The Phantom Menace, Maul dispatches Jedi Master Qui-Gon Jinn (Liam Neeson) in a high-flying, two-on-one lightsaber battle. Park (just 22 at the time) trained for 15-hours a day to get his martial arts up to scratch for the role, but it wasn't until he had the full makeup on that he felt truly ready.
"The look of Darth Maul, the Sith Lord, I think was cool," Park said during his panel at Star Wars Celebration 2015. "I think [with] the makeup and the horns and the lenses and the teeth, you just can't help being naughty, you know?" The character was killed at the end of the aforementioned fight, chopped in two by the young Obi-Wan Kenobi (Ewan McGregor) — or so we're led to believe. The Force-sensitive Zabrak reappeared in the Star Wars: The Clone Wars animated television series and then again in 2018 spin-off, Solo: A Star Wars Story.
Fans reacted negatively to Darth Maul's shock appearance in the questionable Solo, pointing out that he seemed a little rounder about the middle than he did in Episode I. "Seen a few fatty comments out there," Park tweeted (via Express). "I really don't care. I know there are a few people that have no clue what I do, or how it works."
Azog the Defiler in the Hobbit trilogy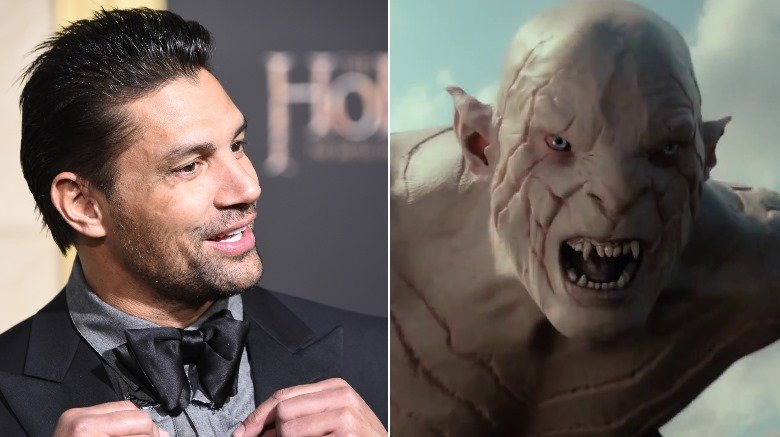 It didn't capture the imagination in the same way that The Lord of the Rings films did, but for Kiwi actor Manu Bennett, Peter Jackson's Hobbit trilogy changed everything. "Being from New Zealand and being chosen by Peter Jackson to play Azog − which is a pivotal bad guy — he really honored me to get a role like that and make a break as a New Zealand actor," Bennett told HNGN. The murderous Orc hounds the titular hobbit Bilbo Baggins and the band of dwarves with whom he travels, but Bennett never actually got to act with any of them.
"There's nothing there," Bennett said of the huge soundstage where he filmed his scenes. "Peter Jackson is yelling at me from one side of the room that there's a giant tree in front of me and Gandalf and all the dwarves are there. … I look foolish, but I have to eliminate that and go, 'Now I'm a seven-foot Orc.'" Bennett is not quite that tall in real life, but his impressive physique has helped him land roles that don't require him to perform in a "tight body suit with little balls all over." Most notably, he played Slade Wilson (better known as Deathstroke) in the hit DC show Arrow.
Unfortunately, the handsome actor made headlines for all the wrong reasons in 2015, when he was arrested following an altercation at Texas Comic Con.
Doctor Poison in Wonder Woman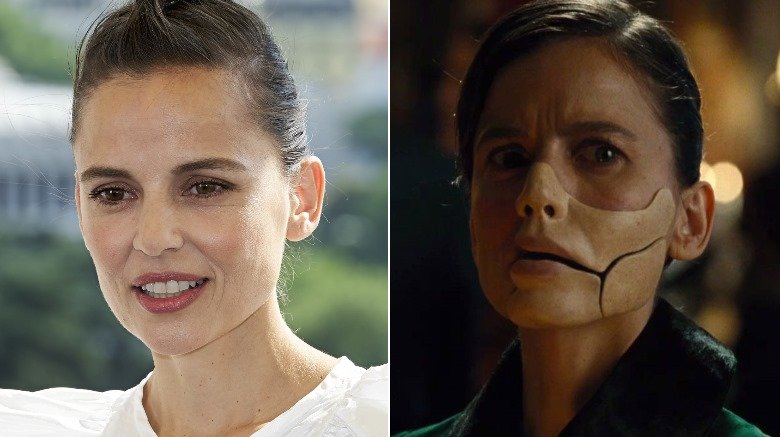 2017's Wonder Woman was hailed as a milestone moment for women in the superhero genre, but it wasn't just the star (Gal Gadot) and director (Patty Jenkins) who were flying the female flag in this film. The critically-acclaimed DC flick also utilized a female villain, with gorgeous Spanish actress Elena Anaya stepping into the boots of Isabel Maru, better-known as Doctor Poison. Maru is a Turkish scientist whose knowledge of deadly toxins prompts the Germans to recruit her during World War I. The villainess develops a devastating new strain of mustard gas that she tests on herself − which is why half of her face is missing beneath that creepy mask.
"She's obsessive, she's a maniac and she doesn't care about her face − it's not important to her," Anaya told The Verge. According to the actress (who is an A-list star in her native Spain and is well-known across the European continent), wearing the Doctor Poison costume helped her get into the mindset of the character, but acting in it wasn't exactly comfortable. The mask proved particularly challenging, because she wasn't able to remove it. "Those plates were painful on my face," she revealed. "They were glued on, I had to wear them like 12 hours a day. I basically couldn't eat or drink the whole day."
Roark Junior in Sin City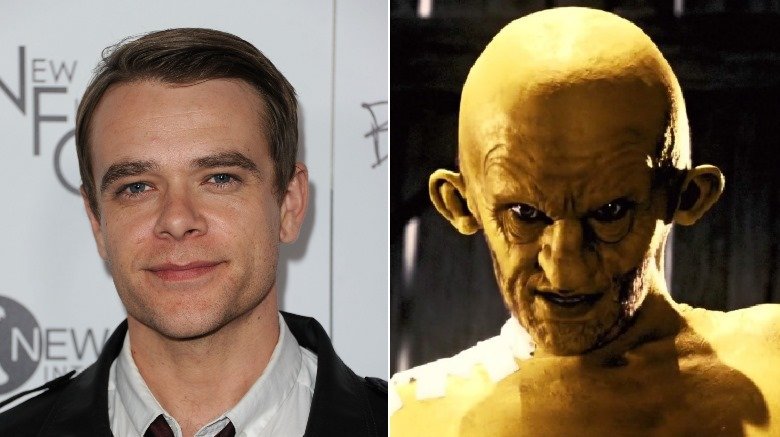 Former child star Nick Stahl began acting when he was just 4 years old, using his mother's contacts (she was a seamstress for a children's theatre group in Dallas) to land stage auditions. His Hollywood career kicked off in 1993, when he appeared opposite Mel Gibson in The Man Without a Face. He was nominated for a Young Artist Award for his work in that movie, but Stahl's career curtailed in the years that followed. It wasn't until he'd come of age that Stahl started landing roles in big movies — projects like the divisive Terminator 3: Rise of the Machines (2003) and Robert Rodriquez's Sin City (2005).
Based on Frank Miller's beloved graphic novels, Sin City was a hit with critics. The visuals were groundbreaking at the time and still hold up today, but not everything was achieved via CGI. Stahl had to wear a ton of makeup to play hideous villain Ethan Rourke (better known as Yellow Bastard), and the experience took a toll on him. "I don't ever want to wear that many prosthetics again in my life," he told The Hollywood Interview. "It was miserable. Not only grueling time-wise to put it on, but, you know, just sitting there in it. It's stiflingly hot, you can't move. You feel like you're stuck together." According to ComicBook.com, the comic titled That Yellow Bastard is "considered by many critics and fans to be the greatest Sin City story," so kudos to Stahl for going the extra mile.
Armando Salazar in Pirates of the Caribbean: Dead Men Tell No Tales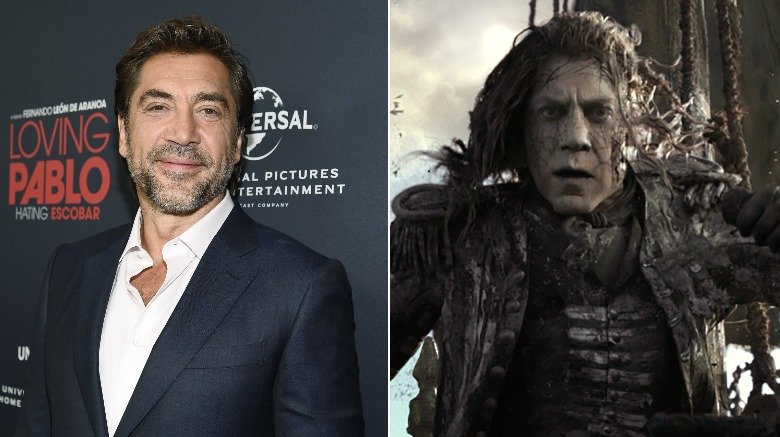 Oscar-winner Javier Bardem is in his fifties now, but that hasn't made the Spanish actor any less easy on the eyes. If anything, the Skyfall star seems to be improving with age. "It just makes me laugh," the humble actor said of all the attention (via People). "…Once you start to get older, you have to focus and be passionate about life day after day." He brought plenty of passion to the role of Armando Salazar in 2017's Pirates of the Caribbean: Dead Men Tell No Tales, but he was far from gorgeous on screen.
Bardem spent most of the fifth Pirates of the Caribbean movie in makeup that made him look like a recently resurrected pirate hunter, but despite the process taking around three hours to complete, it clearly didn't hinder his performance. "It was pretty amazing," Bardem told Collider. "…I think they've done a great job because [the makeup] didn't kill the performance. When you are surrounded by so many special effects, the fear is that you're going to survive it, but they did a great job."
The critics weren't kind to Dead Men Tell No Tales (It scored a limp 29 percent on Rotten Tomatoes – the lowest score in the history of the Disney franchise), but Bardem was singled out for praise. "[Bardem] brings a dollop of fresh mischief to this paycheck party," said Rolling Stone.
Ronan the Accuser in Guardians of the Galaxy, Captain Marvel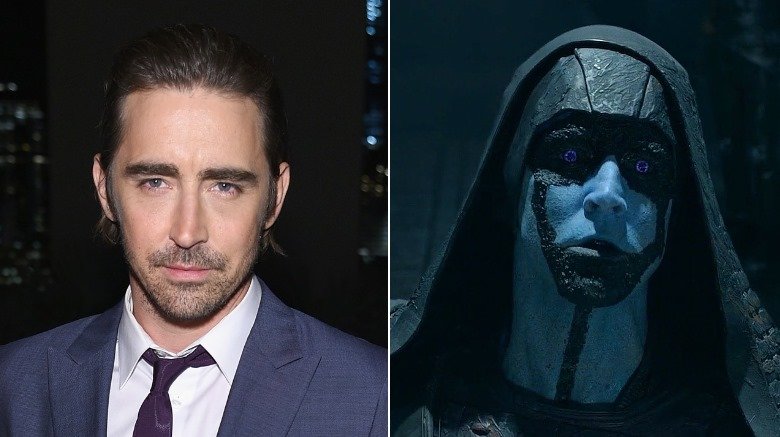 Oklahoma-born actor Lee Pace also appeared in Peter Jackson's aforementioned Hobbit trilogy, playing Elven king Thranduil. He pretty much looks like himself when he's in character as Thranduil (minus the long blonde hair, bright blue eyes, and pointy ears, of course), but that wasn't the case when he appeared as the main villain in 2014's Guardians of the Galaxy and 2019's Captain Marvel. The towering actor portrayed Kree radical Ronan the Accuser in the Marvel movie, which required lots of work in the makeup chair. 
"It was such a privilege to be a part of that world," Pace told CBR. "It's just so creative. [Marvel president] Kevin Feige and the whole team, they just make fun movies. I mean, with big characters in them and real performances." While he seems to love talking about his craft, he's much less inclined to discuss his personal life in the press. When W magazine asked him about his sexuality in a 2018 interview, things got awkward. "I've dated men, I've dated women," Pace responded. "I don't know why anyone would care. I'm an actor and I play roles. To be honest, I don't know what to say — I find your question intrusive."
Calypso in Pirates of the Caribbean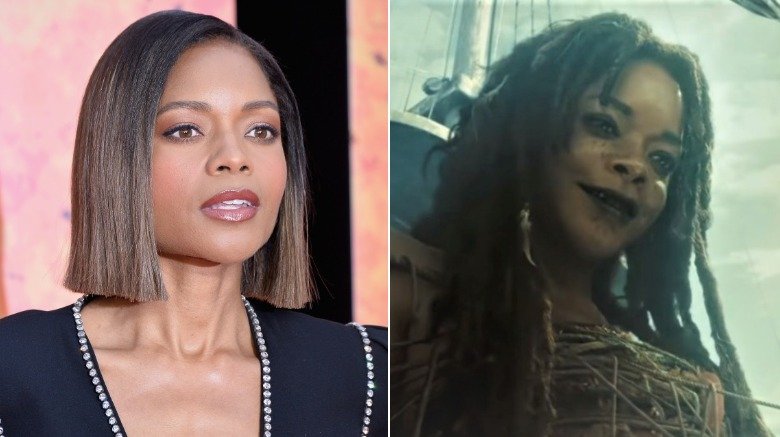 British actress Naomie Harris is probably best known for playing Miss Moneypenny in the Daniel Craig era of James Bond movies, but prior to taking on the role of M's sultry secretary she played the sea goddess Calypso in the Pirates of the Caribbean franchise. Harris made her debut as voodoo mystic Tia Dalma (the name Calypso took after being imprisoned in the body of a woman) in 2006's Dead Man's Chest. She reprised the role in 2007's At World's End, in which she was released from her human bonds in a spectacular tsunami of crabs.
"It's hard to see or hear Naomie Harris, the lovely 30-year-old London-born character actress, behind those black teeth, those blue-stained lips, those hundred-year-dreadlocks in Pirates of the Caribbean," Orlando Sentinel film critic Roger Moore said after seeing At World's End. When Harris sat down for an interview with Moore in 2007, she described the routine she had to go through before shooting.
"It wasn't that bad," she said. "You know, a wig. Black lipstick, black eye shadow, some tribal markings and gold and dirt on the face. The teeth were prosthetic teeth that you just clip in and out. Oh, and I also had to fill my mouth with vegetable dye before each take. Tasty. The idea was that Tia Dalma is kind of oozing ink and evil."