Error, group does not exist! Check your syntax! (ID: 5)
Do you want to give your unattractive bathroom a facelift without spending a fortune? Or does your bathroom look too old? Are there any affordable ideas on how to make my bathroom look elegant and add value to your home?
Such questions are common with many homeowners. After all, everyone loves a bright and functional bathroom. However, popular home remodeling ideas are expensive in terms of cost and time. Furthermore, these ideas make many people dread taking up such projects.
Well, if you're low on cash and looking for bathroom update ideas on a budget we got you covered. Fortunately, there are affordable ways you can make your bathroom look like something out of a home decor magazine.
We've compiled great 30+ bathroom remodel update ideas on a budget for you. Also, we have taken the time to break it into different categories for easy remodeling. Hence, read on as we will show you various inexpensive bathroom ideas for remodeling.
Let's get started with the floors before moving to other parts of your bathroom.
Floors
Floors are essential parts of the bathroom space because they offer walking support. Here are some ways you can remodel the flooring in this part of your home.
1. Purchase Affordable Materials That Look Expensive
If you wish to save money, renovating, or maintaining the original items in your space, come as ideal options. However, if they are worn out, avoid expensive materials, and purchase affordable lookalikes.
For instance, rather than replacing your flooring with real wood planks, settle for low-cost luxury vinyl flooring. We recommend this material because current vinyl styles such as luxury vinyl and plank vinyl resemble high-cost materials at a glance.
For your countertops, you can swap granite for top quality laminate or quartz variants. You may also abandon travertine and marble and choose faux stone ceramic or porcelain tiles.
Error, group does not exist! Check your syntax! (ID: 5)
2. Paint The Wooden Flooring
If it falls within your budget, you can replace the wooden floors in your bathroom with tile or engineered wood. But if you are low on cash and time, make the flooring brighter by applying some protective enamel paint.
We want to add that solid hardwood is a poor choice for bathroom flooring because of the moisture. However, if you already have one, the above tip will make it last longer.
Now let's move to cheap bathroom ideas for bathroom's wall.
Wall
3. Green Updates On The Wall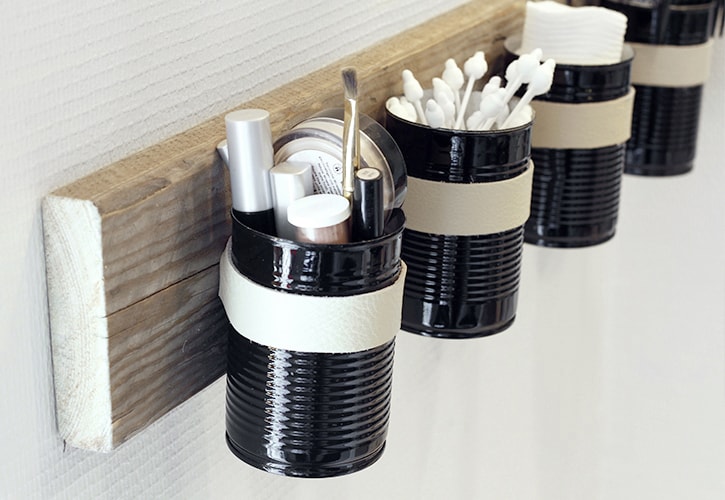 Go green to make your bathroom elegant. One easy way is to get three beautiful outdated tin cans and drill them on each side into a vintage plank of size 2 ft. After doing this, drill them onto the bathroom wall to get a stylish bathroom store.
After this process, you can then use them to keep your toothbrush, combs, toothpaste, toothbrushes, and other bathroom necessities. To add more beauty to the bathroom, you can even put garden-fresh flowers with fragrance in some of the cans.
4. Install Wainscot
One of the best ways to protect the lower portion of your wall is to install a wainscot. As you should know, this pre-fabricated board spreads as high as 48 inches. Using it in your bathroom erases the need to cover up minor holes and dings on the wall.
Keep in mind, if there is mold and mildew speckled on the wall, it will not be a good idea to cover it up. Instead, you should clean it thoroughly and change the affected wood portions of the wall.
Error, group does not exist! Check your syntax! (ID: 5)
5. Give The Wall A Statement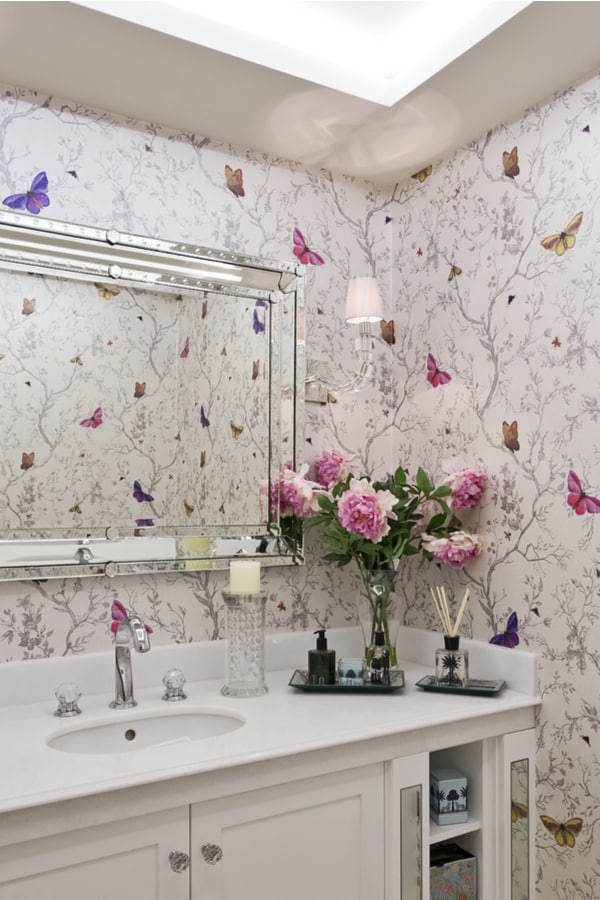 It is great to have a wall that catches the eye once you enter the bathroom. Using beautiful wallpaper or different paint color is one of the best ways to add decorative detail without a big budget.
Countertops
6. Spend Less On Counter Tops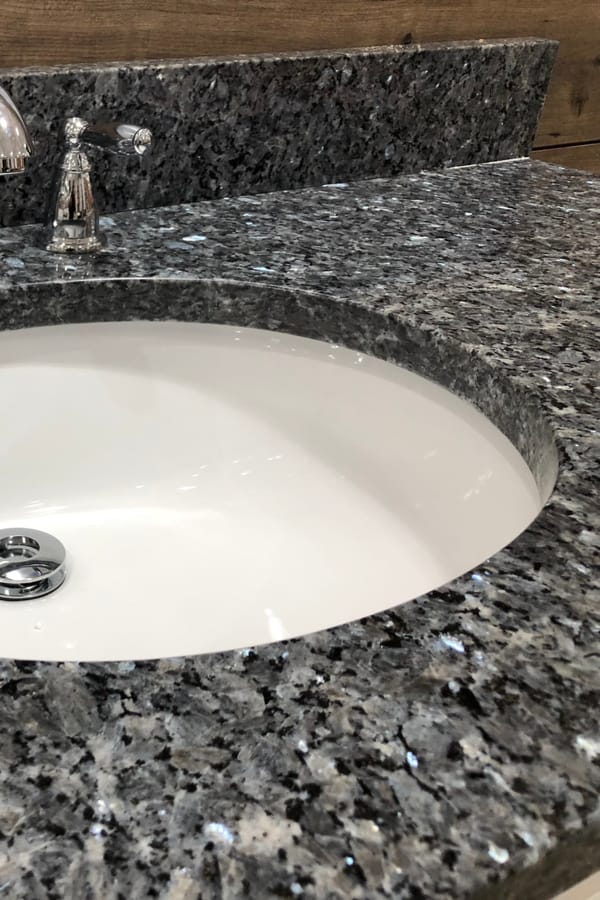 Popular remodeling culture advises homeowners to spend large amounts on granite countertops. Due to the size of this fitting, it is not as costly as the countertops used in other spaces in your home. However, it might be above your budget.
You can spend less on countertops by going for colors that are not popular with buyers. Colors which are in high demand and thereby expensive include light beige, tan and brown.
You can also get cheaper granite countertops by getting a slab with slight cracks or fissures. Furthermore, the higher the crack, the cheaper the slab. Do not worry about seeing the cracks because they will be located closer to the faucet or sink.
Dresser sinks are new ways to spice up your bathroom sink, but they are expensive. The good news is that you can make one by cutting a hole in any dresser and place a sink in the space. You can even add spaces for pipes by removing drawers.
7. Seek Low-Cost Alternatives To Granite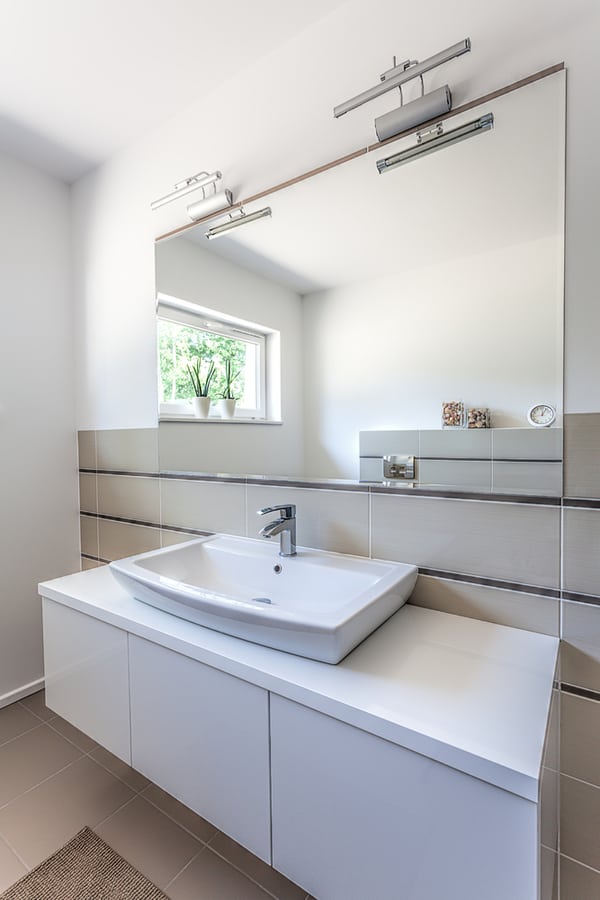 It is good to use imperfect granite when you use cheap bathroom ideas for bathrooms, but they might put a hole in your pocket. If this is your case, try high definition laminate, quartz, faux stone ceramic or porcelain tiles as affordable alternatives.
Error, group does not exist! Check your syntax! (ID: 5)