If you're a fan of personal care, fashion, and the best hacks, this is the right place for you! You'll now learn how to achieve spectacular lashes, organize your jewelry, clean your makeup products, and more. As you know, it can sometimes be difficult and tedious to be splendid 24/7 in your daily routine. But we're here to help you and make your life easier.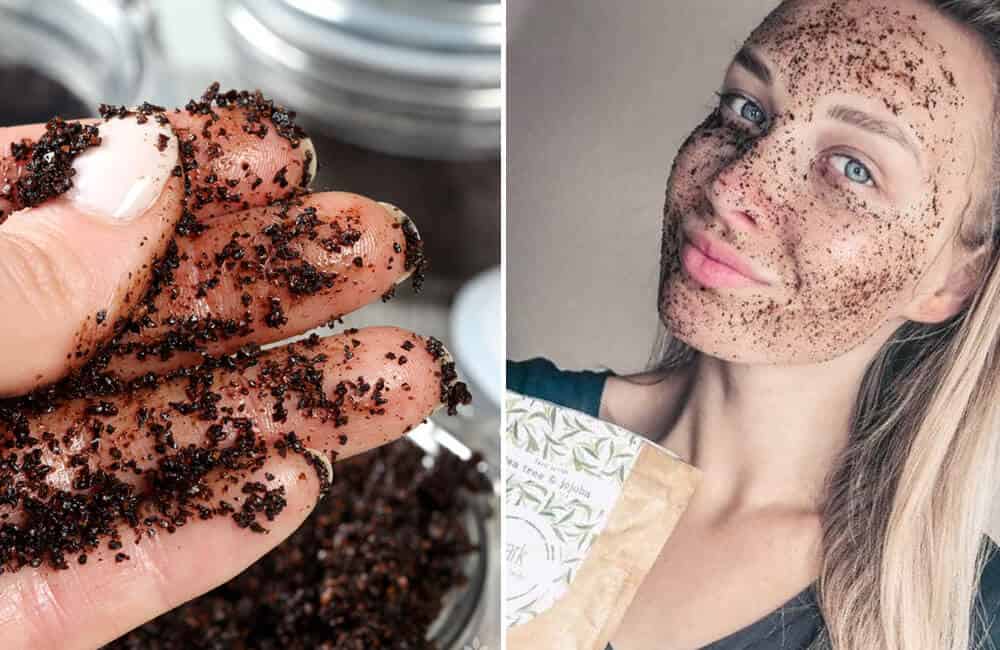 With these tricks, you will not only be gorgeous, but you will also find it easier to take care of your health, clothes, nails, eyelashes, and everything else you can imagine. Shine and look bright every day with these incredible hacks! Take a seat, grab a notebook to take notes of these helpful tips, and take some time for yourself.
Check out these hacks on the next page- some of them might seem a little crazy, but they could save you some precious dollars!
1. Baby Powder for Longer Lashes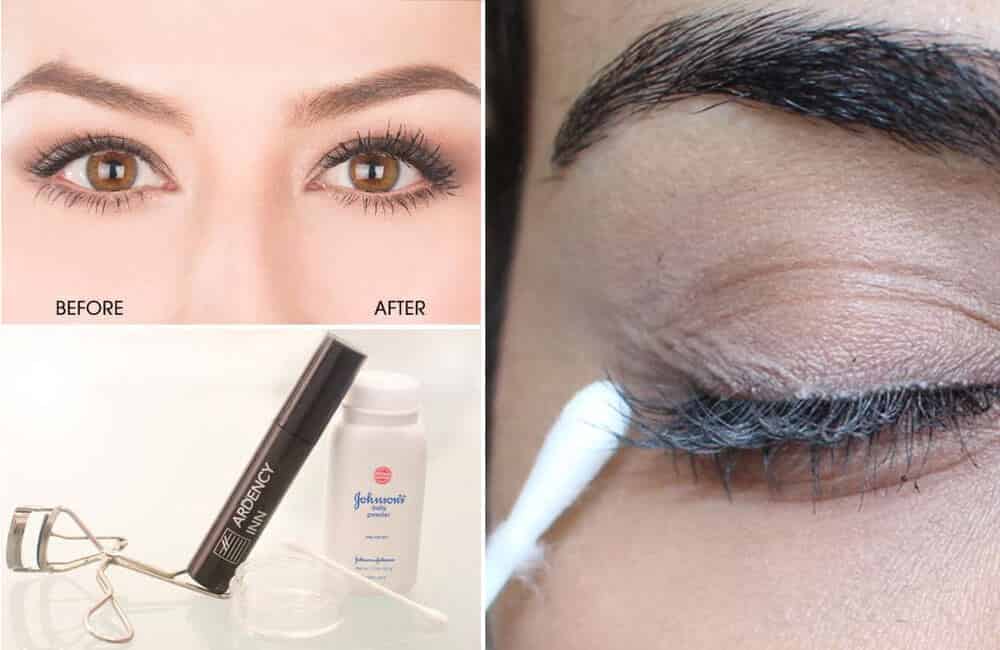 The perfect lashes can be hard to come by, but with the right mascara, you can have luscious lashes that look full and plump. However, with new mascaras coming out every day, it can be difficult to know which one to buy. More often than not, the end result doesn't look like the advertisement anyway. But don't worry, there's a hack for this!
According to some bloggers, taking a cotton bud, dipping it into baby powder, and applying a thin layer to lashes before applying mascara supposedly helps the product to stick. When the mascara goes on, it's as if you've shelled out for some professional extensions.
2. Bra Insert for Applying Makeup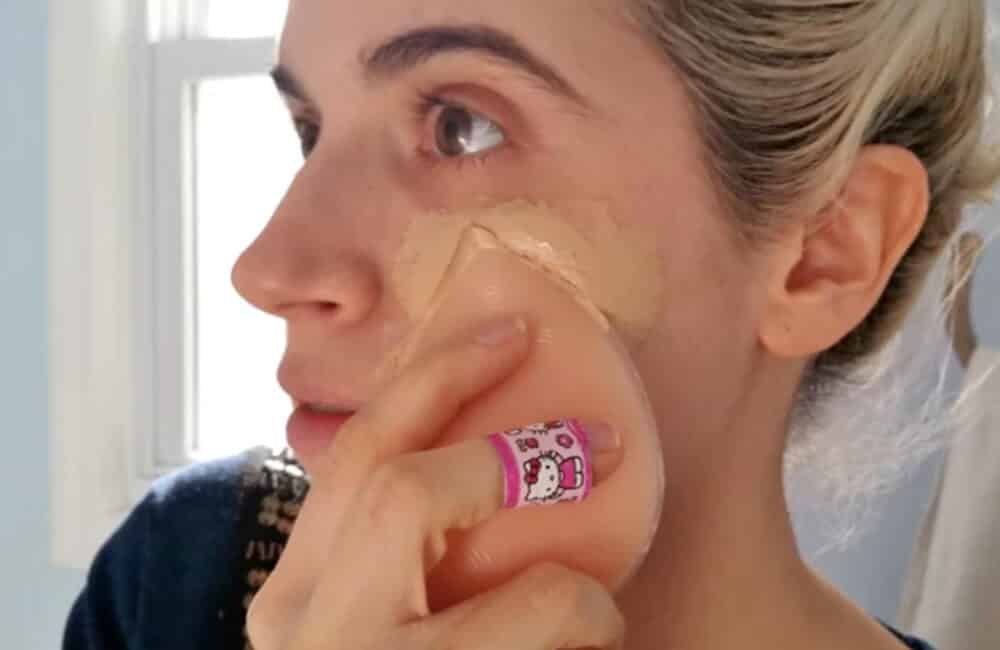 The search for the perfect makeup blender never ends, and beauty lovers are always on the lookout for new and innovative ways to get the perfect finish. A few years ago, silicone blenders became popular, but people quickly discovered that bra inserts work just as well.
This makeup blender is a must-have for any beauty lover! Not only is it a great price, but it also lasts a long time. You can use it in the same way you would a blender to apply your makeup. The upside? Unlike a sponge, the silicone won't absorb a ton of your product, meaning your foundation will ultimately last longer and you won't have to buy new ones as often.
3. Vaseline for All-Day Scent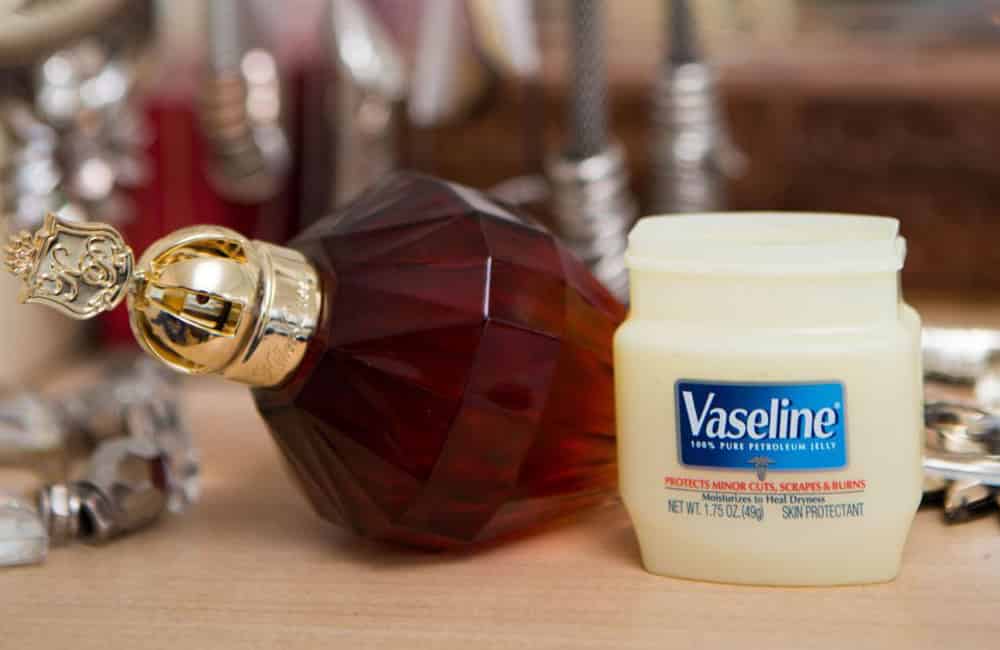 Have you ever spent a small fortune on perfume or cologne that you really love, only to get annoyed when you can't smell it by midday? Even the most expensive perfumes don't always last until you leave the office, but don't worry – there's a hack for this, too.
The best way to make your perfume last longer is to put a thin layer of Vaseline on your wrists and neck before spraying the scent. Vaseline will hold the scent, making it last much longer. A tub of Vaseline costs less than $2 at Target, so it's a thrifty way to make your perfume last longer.
4. Deodorant for Blisters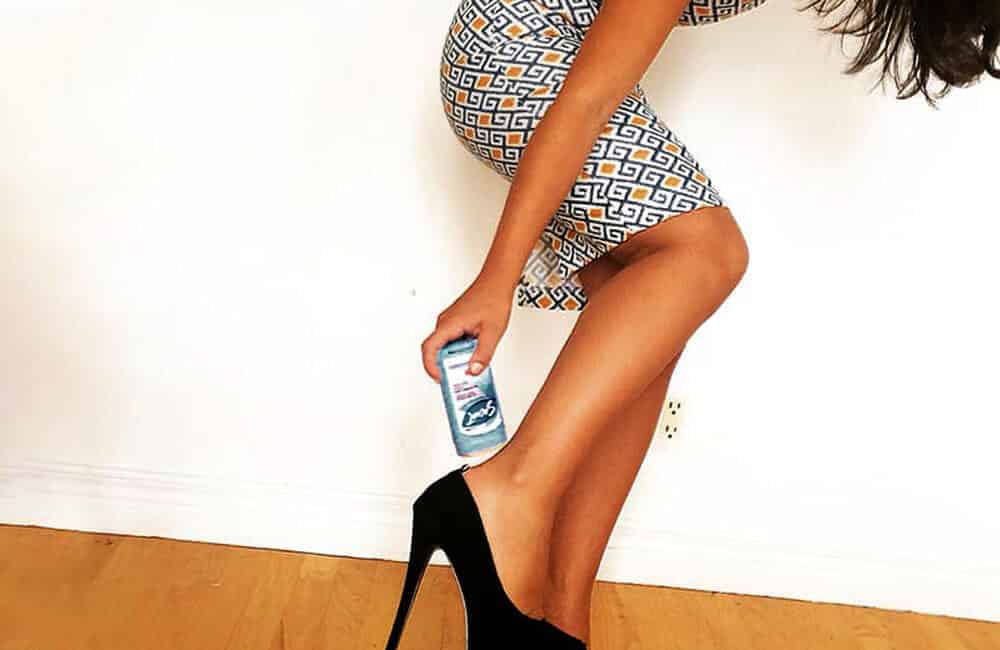 Deodorant is something we all have in our bathrooms, but even if we don't, it's very cheap to buy. Its main use is to stop us from stinking out the office in the middle of summer, but that's not its only use. In fact, deodorant is very useful in other situations, too.
If you're looking for a way to prevent chafing and blisters, look no further than your trusty can of deodorant! Not only can it be used on certain areas to stop chafing, but it can also be used on the feet to stop shoes or sandals from rubbing. Just either spray your feet or apply some roll-on deodorant and away you go to enjoy a pain-free day.
5. Foil for Teeth Whitening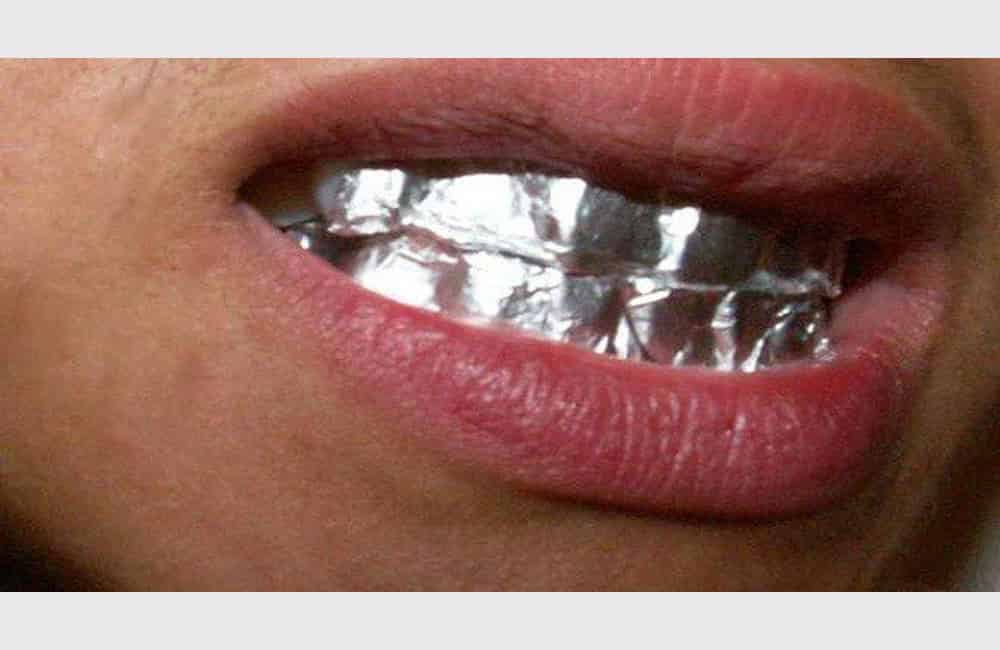 It's no secret that we all want whiter teeth – but achieving that bright smile can often come at a high price. Luckily, there are plenty of ways to get the job done without spending a fortune. This simple tooth whitening hack only requires foil, baking soda, and salt.
According to some sources, mixing baking soda with salt and water to form a paste, applying that to teeth, and then wrapping the teeth in foil can help you get that Hollywood smile. While the results certainly look decent if some blogs are to be believed, there are those that say it's not the healthiest or most convenient way to get pearly whites.
6. Toothpaste for Bright Nails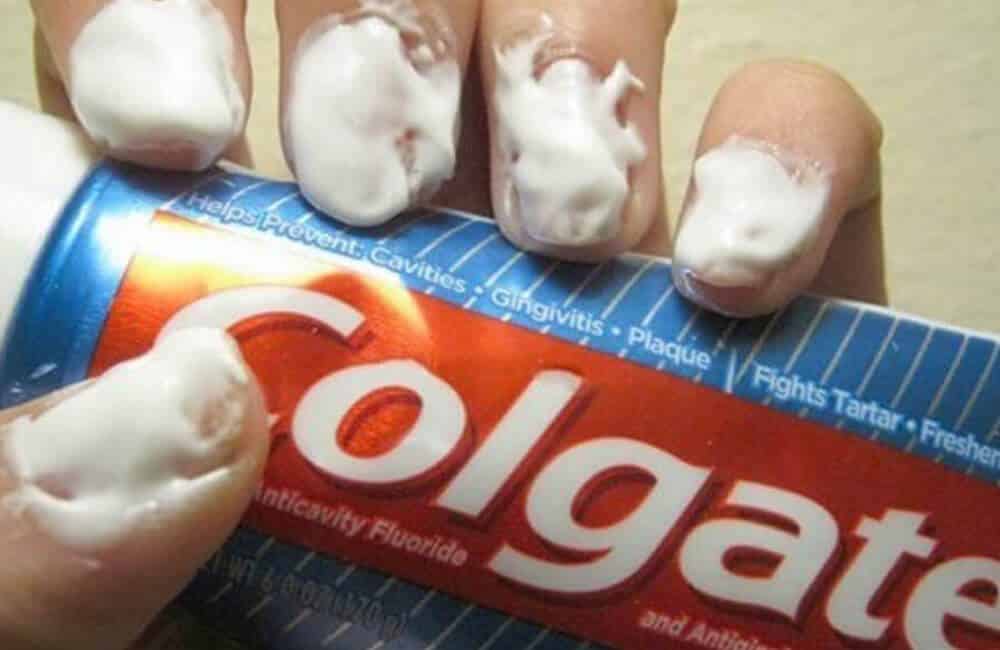 Toothpaste is not just for brushing teeth – it can also be used for all sorts of things when it comes to beauty. Some put it on blemishes, some use it as lip gloss – others use it to brighten their fingernails. Goodbye to costly cuticle oil and hello to minty fresh wizardry!
There are a few ways to get your nails looking their best: you can either scrub them with toothpaste and an old toothbrush or use your fingers to rub the toothpaste in. Either way, leave the toothpaste on for a few minutes and then wipe it off to reveal shiny, healthy nails.
7. Coffee Grounds for Exfoliation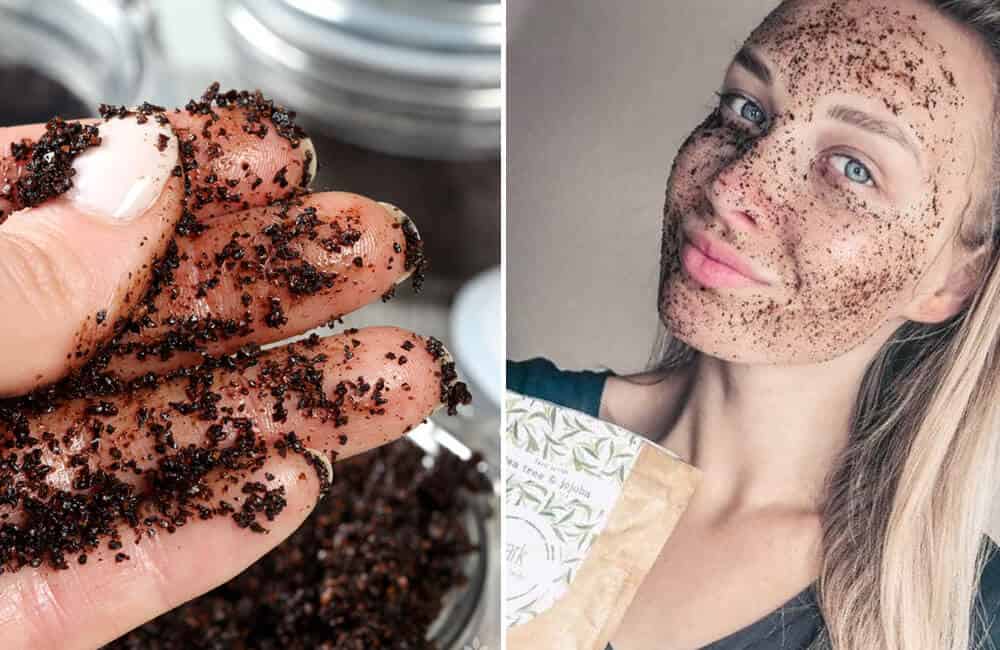 The world loves coffee, and America is no exception. In fact, coffee is one of the most popular drinks in the United States. Nearly every nation in the world enjoys a cup of coffee, which is why used coffee grounds are so easy to come by. Next time you make a pot, don't be so quick to throw out the grounds. Instead, keep them and use them in your garden.
Coffee grounds can make for an excellent exfoliator. Not only are they the perfect texture to get rid of the layers of skin, but caffeine also has plenty of antioxidants to benefit the skin. It doesn't matter if you use Starbucks or Kroger's own! Some people swear by this hack, saying it's much better than any expensive facial.
8. Beer for Shiny Hair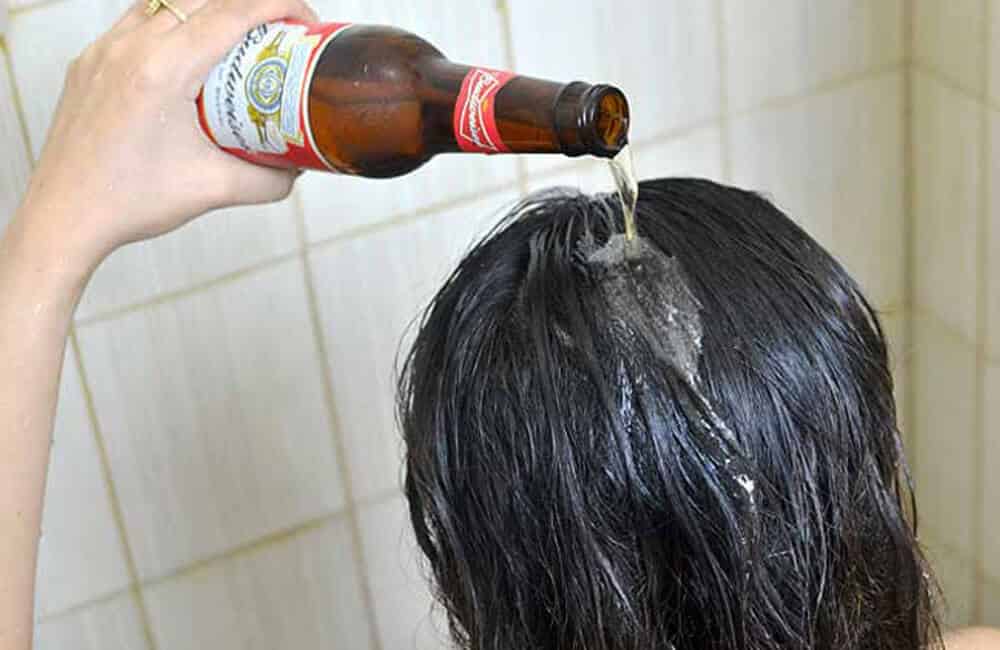 The last thing most of us think about when we buy a 6-pack of beer is washing our hair with it – but maybe we should reconsider! Beer is great for drinking, but it's also great for clarifying the hair. What's more, it's not a difficult process to wrap your head around.
Beer can give you a nice buzz, but it's also full of nutrients that can give your hair a much-needed moisture boost to make it shiny and luscious. So, next time you've got one Budweiser left in the fridge, you may want to weigh up the options. Would it be better in a glass, or in the shower?
9. PVA Glue for Blackhead Removal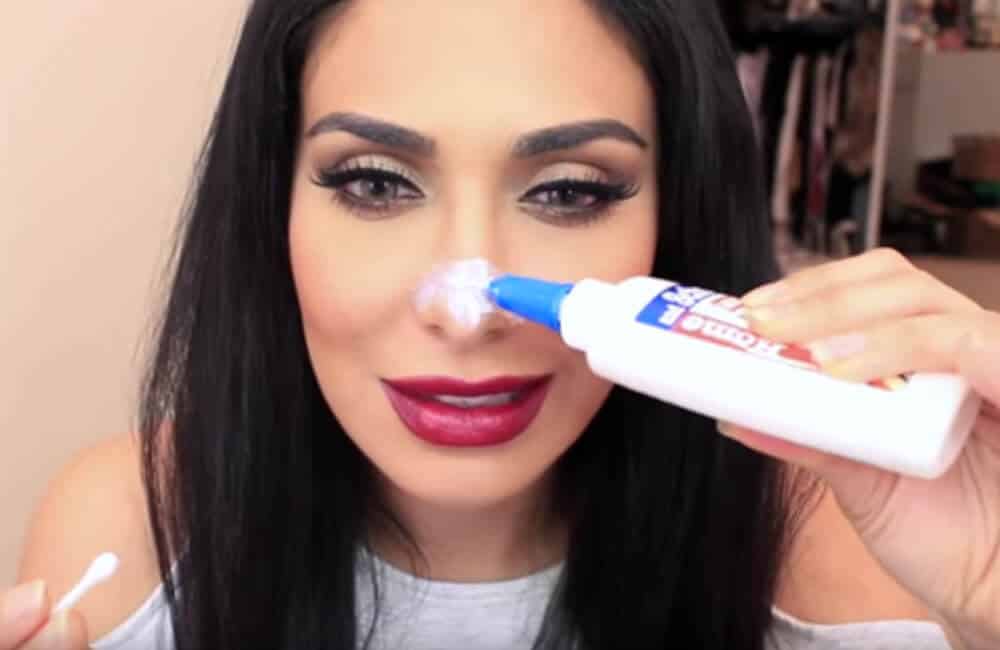 PVA glue may not be the first thing that comes to mind when you think of beauty treatments, but some bloggers are saying that we're all missing out on a great trick. A few years ago, blackhead removal masks became popular. These sticky creams dry on the skin before being peeled off, taking all sorts of nasty gunk directly out of your pores with it.
Despite being affordable, some people say that using PVA glue as a mask provides similar results to more expensive masks. We can't attest to this ourselves, but if it's true, it could be a great way to save money on your beauty routine!
10. Mayonnaise for Shiny Hair
The very thought of using mayonnaise as a shampoo might make some people feel sick, but those that try this hack usually love it. You'll need a big tub of mayo, a wide-tooth comb, and a shower cap to complete this particular DIY hack.
Instead of slathering mayonnaise all over your hair like you would a pastrami sandwich, try using it as a hair mask! Apply it to your hair, comb it through, and then put on a shower cap. Leave it in for 20 minutes before rinsing it out. Your hair will be looking and feeling healthier in no time! This hair hack even has celebrity endorsements. If millionaires are using it, then it must be something special.
11. Floss Picks for Pores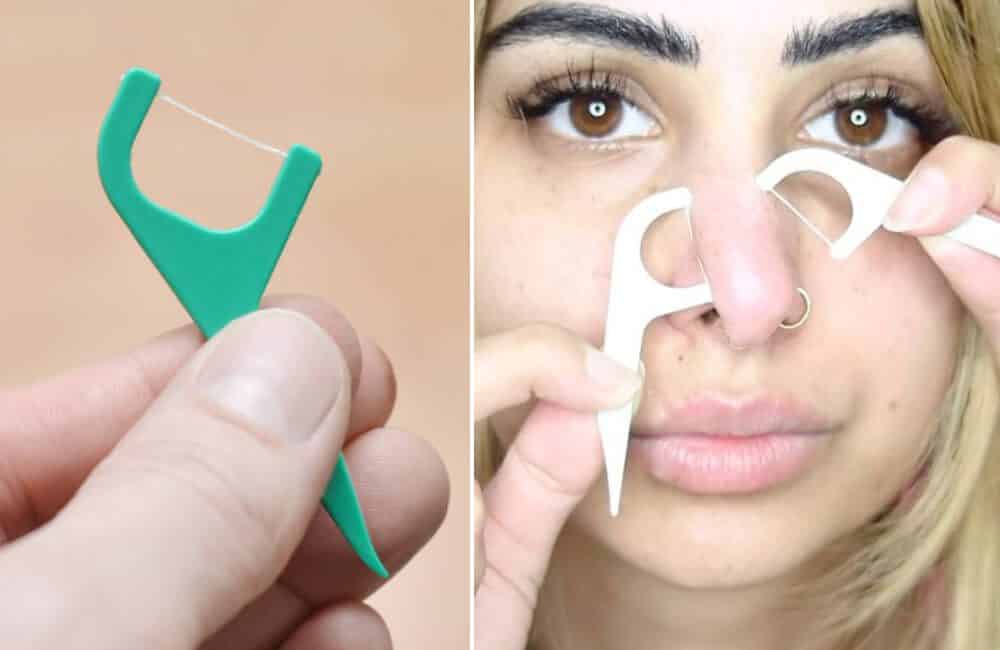 Pore strips can be a little pricey if you go for a high-quality brand, but why spend your money when you can get the same results with something you probably already have at home? One beauty blogger's hack involving using a household item went viral in 2017.
Dip a hot towel in water and wring it out. Place the hot towel on your skin for five minutes to open the pores. Take two disposable floss picks and scrape them over your skin in tandem. You'll be surprised at all the junk that comes flying out of your skin. If you don't have floss picks, you can get a bag on Amazon for next to nothing.
12. Fork for Perfect Contour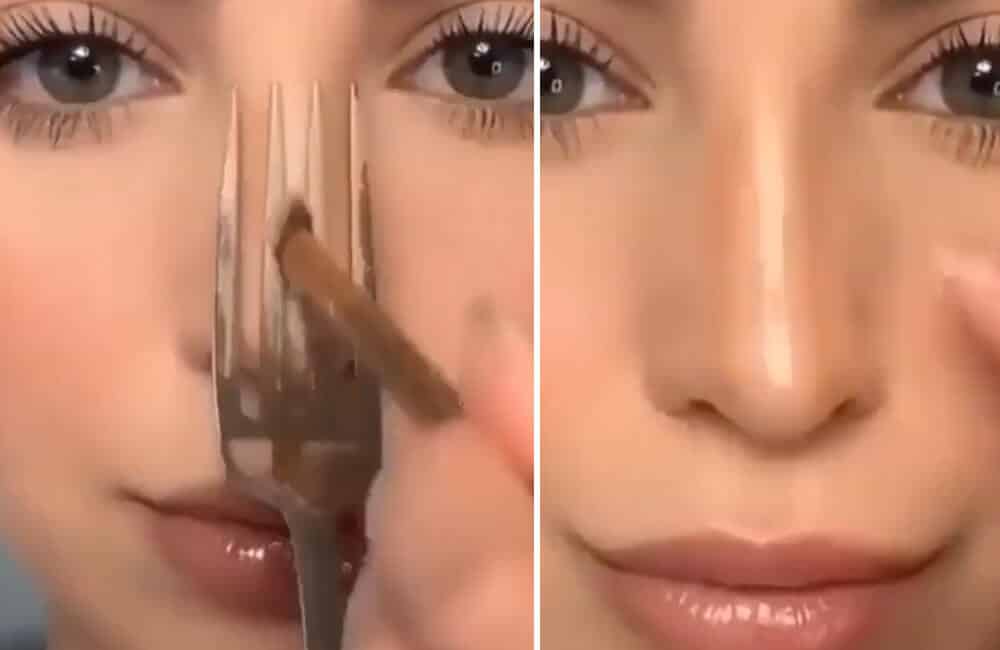 If you're looking to add a little more definition to your face, but don't want to spend the money on a contouring kit, look no further than your kitchen drawer! Most of us have a fork lying around, so this hack is basically free.
If you place the fork on your nose, it becomes your guide to help you place the highlight and shade perfectly. It might seem like a strange thing to do, but as long as you clean it afterward, who will know? Some make-up artists spend thousands of dollars learning how to contour properly, so this is a cheap alternative.
13. Spoons for Puffy Eyes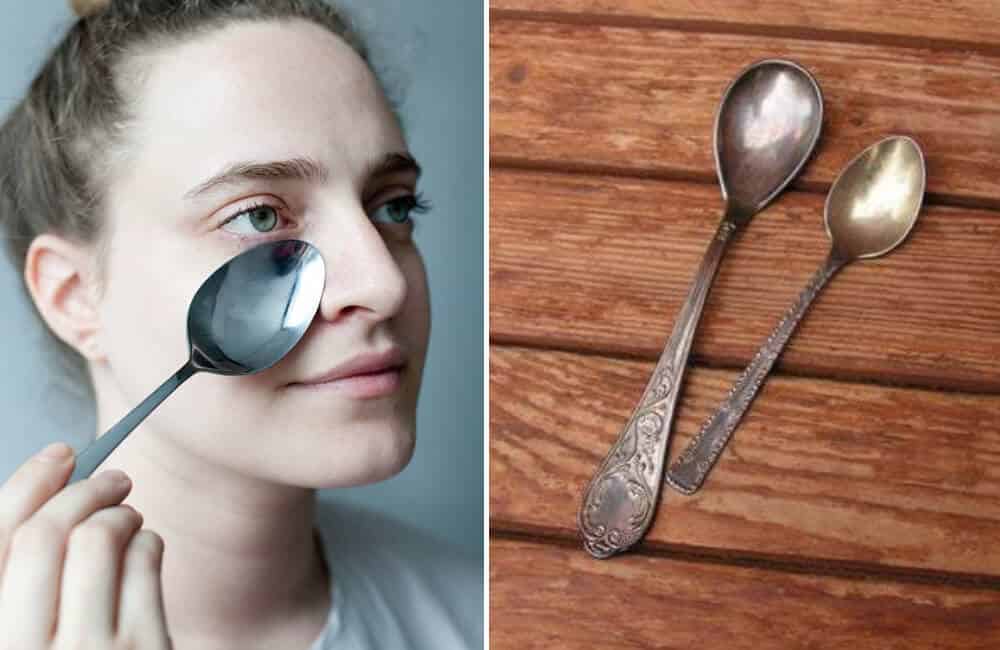 There's a 99.9% chance you've got two spoons lying in your cutlery drawer, waiting to be pulled out at breakfast time. However, you might want to think about taking two of them and allocating them for an altogether different purpose. Putting two spoons in the freezer could be the key to unlocking a whole new level of breakfasting.
Cold spoons are a lifesaver when you've had a bad reaction to seafood, need to soothe your skin after a good cry, or are suffering from hayfever. The cold metal can help restore brightness and eliminate puffiness. Gua sha can do a similar job, but it can be expensive to buy. Why not use something you already have at home?
14. Dryer Sheet for Hair Static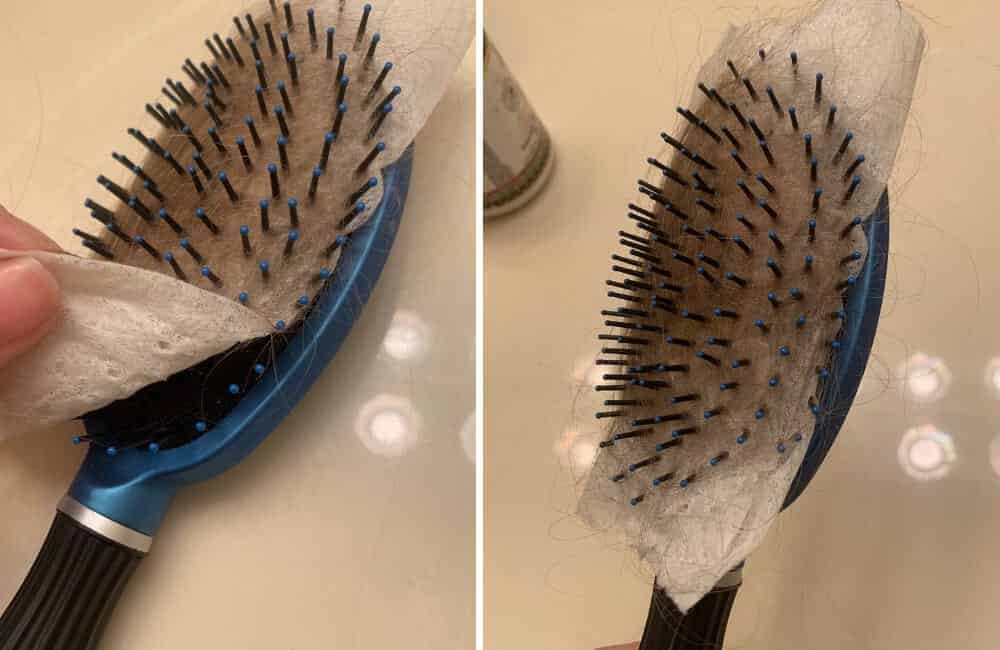 Static cling can be a real pain, but thankfully, dryer sheets can help! You can buy them at most stores for just a few bucks, so there's no need to panic if you don't have any on hand. If you have long hair, you'll know how much of a difference they can make!
If you've ever felt like you've put your finger in a socket, don't worry – you're not alone! Luckily, there's a simple solution: dryer sheets. They're specially designed to take the static out of clothes in the dryer, so all you need to do is stick one on top of your hairbrush and brush your hair. With one simple step, you'll be grounded in no time.
15. Red Lipstick for Eyebags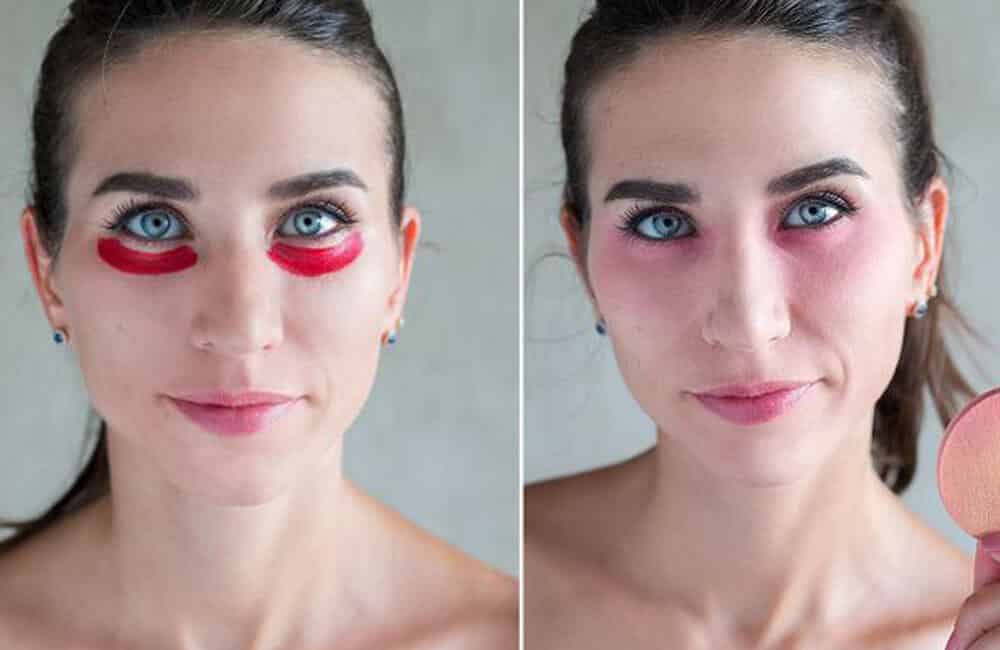 Sleep deprivation is a common experience for everyone, regardless of their gender. The dark circles and bags under your eyes make you look exhausted, and no amount of concealer will help. However, a quick fix for this problem is to use an eye mask to block out the light.
If you're looking for a quick and easy way to look refreshed and ready for the day, all you need is bright red lipstick. It can be any brand, but using pigment-rich lipstick underneath your eyes will help to cancel out any dark circles or under-eye bags.
16. Potato for Bright Underarms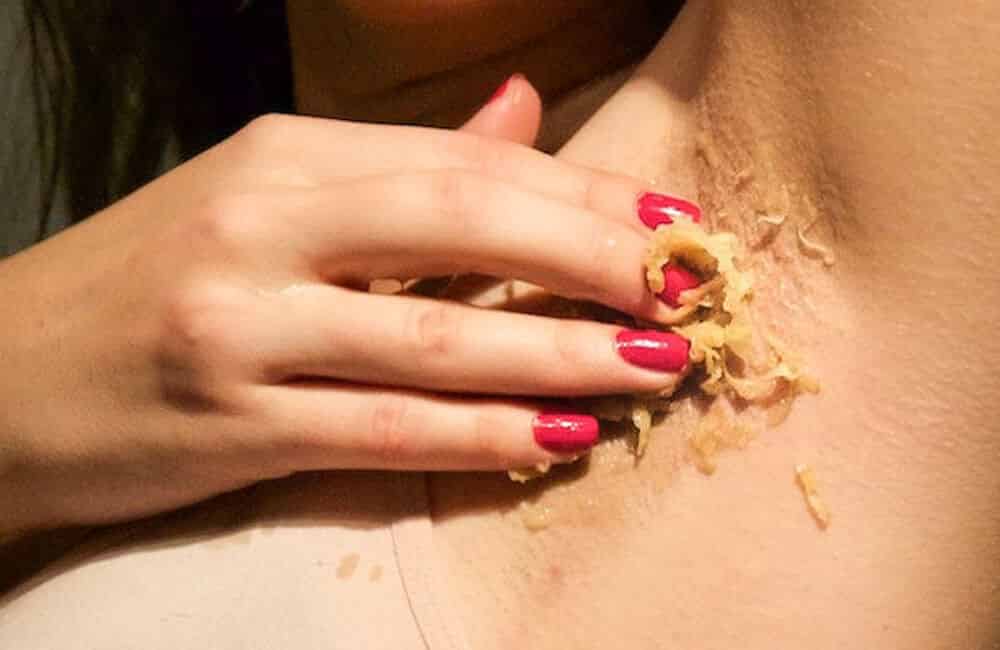 Potatoes are versatile vegetables that can be used in many different ways. You can make fries, mashed potatoes, or even paint with them. They can also be used to brighten up dark underarms, but not many people know that. Simply grate some up and scrub your armpits with them to get the job done.
If you're looking for a way to achieve a flawless complexion, look no further than the humble potato. The starch in this root vegetable can help to lighten dark pits and give you a new lease of life. So if you're planning a beach holiday or need to wear a strapless dress, this might be the hack for you!
17. Make Hair Appear Thicker with Eyeshadow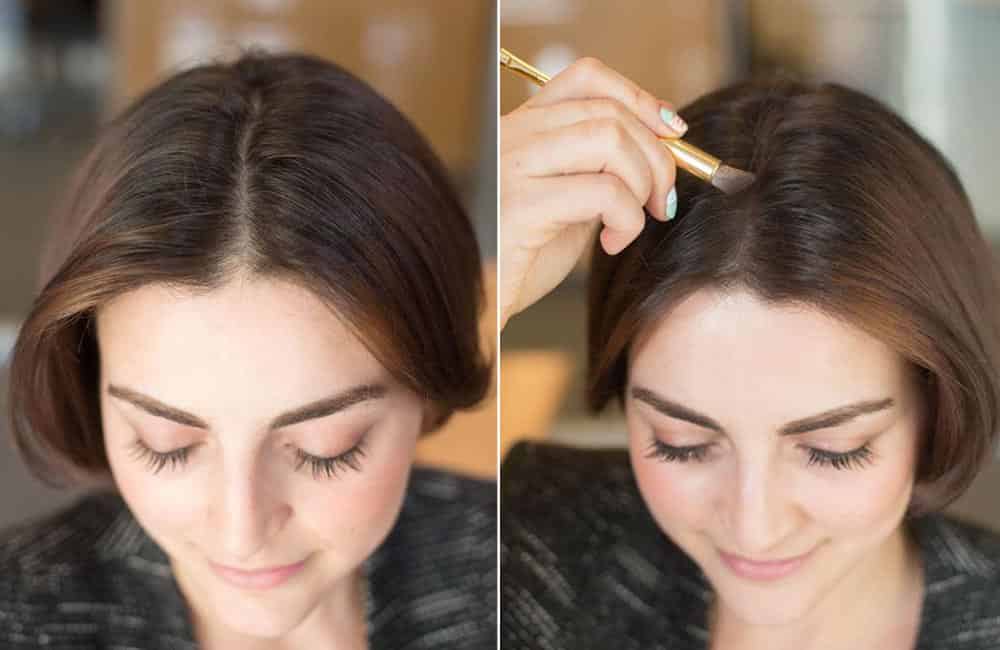 "Have you ever considered using makeup in your hair? The answer to that is probably no, but maybe it's time you did. Celebrities like Ariana Grande and Kim Kardashian might always appear to have the perfect hairline when they pull their hair back into a tight ponytail, but they could have a little help."
To get that fuller, thicker look, all you need to do is take a shade of eyeshadow that matches your hair and a brush. Softly apply it to your hairline in upward motions, and in no time at all, you'll have a luscious-looking head of hair.
18. The hashtag for Perfect Smokey Look
Mastering the perfect smokey eyeshadow look is definitely not for the faint of heart. Over the years, many have tried and failed, but with the right tips and tricks, it can be simple. Some experts say that drawing a hashtag on your eyelid with eyeliner is the ideal place to start. By blending it out, you'll create a sultry and smokey look that is perfect for any occasion.
While it may not give you that Kylie Jenner Insta-look, it's certainly better than struggling with an eyeshadow brush and setting powder all over your freshly washed and prepped skin. This eyeshadow is foolproof and easy to apply, so you can save yourself the pain of getting rid of dust and try it out today.
19. Create Perfect Winged Liner with a Spoon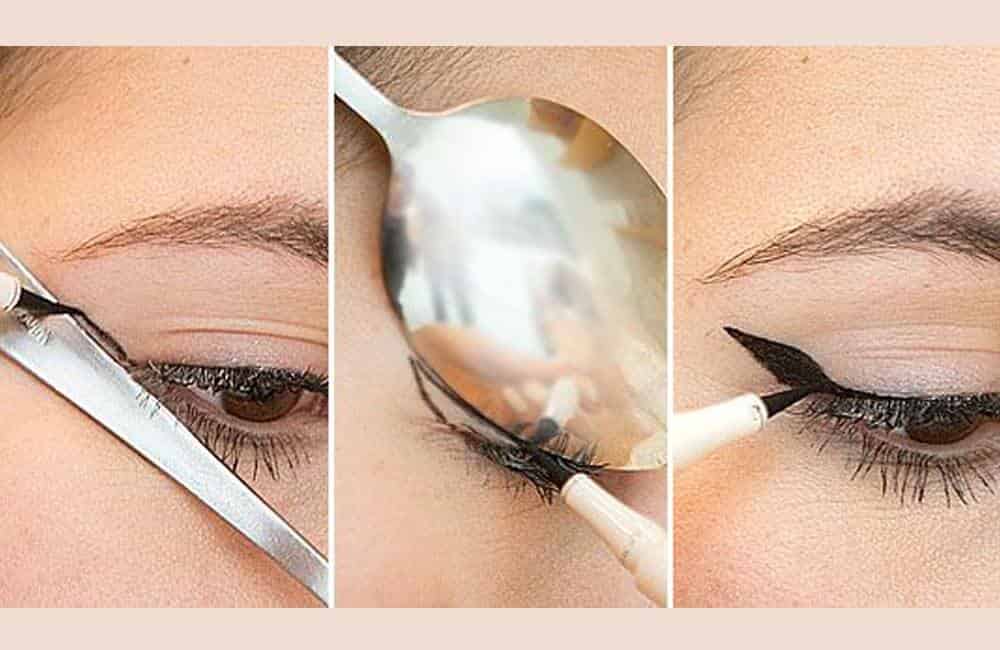 Winged eyeliner is a timeless look that every makeup lover should try at least once. Though it can be tricky to get the hang of, the results are well worth it. Plus, this hack is totally free, so there's no excuse not to give it a go!
Some people find freestyling easy, but if you've always struggled to make it look good, don't worry. Grab a spoon! The bowl of the spoon can help you get the shape of the lid, while the handle can take care of the flick. In no time at all, you'll have an eyeliner moment that will make Adele jealous.